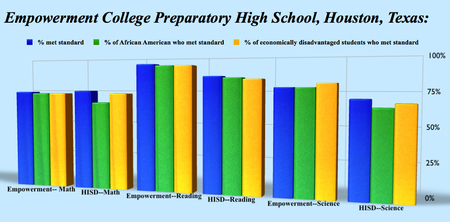 CES has developed a strong network of new small schools as a result of our Small School Project. We continue to be well-positioned to support small schools in all stages of development. The following examples of small schools that emerged from the Small Schools Project and Network offer strong data that demonstrate the power of the CES approach.
Empowerment College Preparatory High School, Houston Independent School District – Houston, Texas
Empowerment College Preparatory High School is small in-district high school that opened in 2004. Empowerment College Preparatory High School is acknowledged as the most effective school in the Houston Independent School District when it comes to serving low-income African American students. Empowerment has consistently scored higher than the HISD average on all standardized assessments.
James Baldwin High School, New York City Department of Education – New York, New York
James Baldwin High School is a small, community-minded, college preparatory public high school that opened in 2005 in New York City. Serving students who have previously found high school to be unresponsive to their needs, Baldwin has achieved great success in closing the achievement gap.
Baldwin has a 94% graduation rate and has achieved noteworthy student success on state standardized tests.
Baldwin received the highest ranking of "well developed" in 35 out of 35 areas of the NYC Department of Education Quality Review process led by a team of external evaluators.
Baldwin's percentage of students meeting or exceeding proficiency targets on state assessments surpasses that of similar schools in the district.
Metro Early College High School, The Education Council – Franklin County, Ohio
Metro Early College High School, a small, intellectually vibrant public school option for ninth through twelfth graders in Franklin County, opened in 2006. Metro was conceived to provide Columbus-area students with a personalized and extraordinary learning experience in STEM (science, technology, engineering, and math). The student population is representative of the 16 public schools districts in Franklin County.
Metro has the second-highest passing rate in math compared with preliminary graduation test data from 16 Franklin County school districts.
Metro ranks 20th statewide among 610 Ohio school districts in math passing rates.
Metro has a higher percentage of students that reached the top scoring level on tests than most school districts. Only 12 districts statewide had more students reach the "advanced" tier in reading. Metro was ranked 11th in science; 15th in math; 18th in social studies and 75th in writing statewide.